This month I have ten poems showcased on the Caught In The Net online magazine which features a writer each month, a great opportunity to have a body of work on show. There is a feedback option - so far the comments on mine have been appreciative ! All you have to do is send a siungle poem - if they like it they'll ask for more and if they like them, they'll feature your work for a month. A link from CITN sent me to another e-magazine that was looking for poems and images of makers' marks on architecture and furniture - here's the one of mine they chose....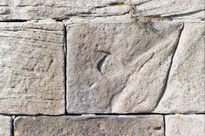 Harbour wall, Whitehaven
Staking a Claim
In slate quarries, on pyramids,
on harbour walls,
where the stones squeeze the air,
no need of mortar where
the fit is kin to kin, a blade
might enter between, pierce
the perfect join as if to say,
'Only God is perfect'.
But the incision, the mark
of the mason, says,
anonymously, modestly,
'I too took part.'