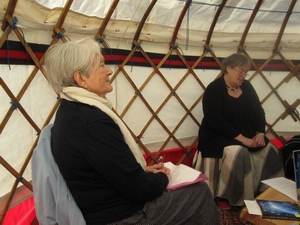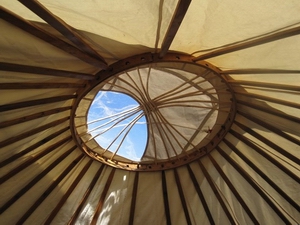 Ann Shukman and I waiting to start our talk The extraordinary Wigtown Ink Yurt
(all photos on this post by Fiona Russell)
Ann Shukman is an historian, I'm a creative writer - we met at a Memoir Group where Ann gave me a folder about one of her family members who lived in the late 1900s - Marion Terry, who might have been a singer. I was really moved by the extracts of letters and papers describing this good and memorable woman. The story I made out of her notes was published in an international anthology -'Voice From the Planet' published by Harvard Square Editions in New York - which is being sold to benefit Medicins Sans Frontieres. Ann and I conducted a conversation before an audience, who then joined in, on the question of whether it was a good idea or not !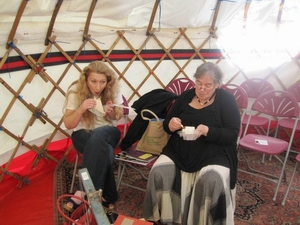 JoAnne McKay and I grab a sandwich
Later that day, JoAnne and I read from our new collections. I love working with her. She's funny and warm, full of energy and she writes very fine poetry. Our work goes well together and this was the third time we've shared a stage.